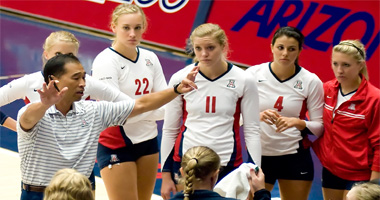 What Separates this Camp From Others?
Head Coach David Rubio personally directs all sessions.
All camp coaches are trained to use the same techniques.
All participants receive a camp T-shirt.
Player to coach ratio of approximately 6:1.
All camp sessions since 1992 have succeeded expectations due to its growth.
Reminders
Each camper must have an E-signature on file with their online registration, or a hard copy mailed in with their registration in order to participate.
Fax to: 520-626-7018 or send to Camp address.
Intermediate All Skills Camp
Who:

Girls and boys. 10 - 18 years of age.

Description:

This camp seeks to introduce the proper mechanics of each skill, while also providing an opportunity to experience high-level training within their position. There will be two sessions of specific position-training and six sessions of team training. This camp is designed for the player who wants to be exposed to the best volleyball instruction the state of Arizona has to offer.

Date/Time:

7/

6 9am-9pm, 7/7 9am-9pm, 7/8 9amNoon

Registration &
Medical forms:
Each participant must send in a completed registration form with deposit or this will be completed automatically if you register on-line. Please register as soon as your are interested and can do so. We reserve the option to implement a $100 late fee for any resident camper registering within a week of the start date; $50 late fee for any commuter camper registering within a week of the start date. This will help off-set the costs of the coaches and late room reservations.

Please be sure fill out t-shirt size (adult sizes) as that is the only way we will be able to make sure you get the correct size - no exchanges will be permitted at check-in.

Payment:

Half the cost of the camp must be paid at the time of registration. The remaining balance is due before or at check-in. You must pay in full at check-in, and pay that balance in cash or money order. No personal checks at check-in.

You can pay in advance and make checks payable to David Rubio Volleyball Camp. Credit card payments are only accepted if you register on-line. Upon check-in at camp, credit cards WILL NOT be accepted. Balances at check-in must be paid by cash or money order only.

Address:

Send payments and registrations to:

David Rubio Volleyball Camp,
1 National Championship Dr.
McKale Center #211
Tucson, AZ 85721

Parking

Parking: If you bring a vehicle, you are responsible for obtaining a parking permit. For permits, call (520) 621-3710. You will not need a parking permit for pick-up/drop-off scheduled times (there will be temporary parking available). If you plan on staying an extended amount of time on the pick-up/drop-off dates you will need to obtain a permit or park in the pay-to-park lots. You DO NOT need parking permits for weekends or weekdays after 5pm. Limited metered parking is also available. The Cherry parking garage, adjacent to McKale Center, will also be available. Parking in the Cherry Garage is charged by the hour.

Refund/Cancel:

If you must cancel, please let us know immediately. It will give us an opportunity to admit someone on the waiting list. There is a $75 cancellation fee for all campers. There will be no refund for no-shows. If cancellation is a result of emergency refunds will be handled on a case by case basis. All refunds will be sent within one week of the completion of the 2018 camp.

Contact:

For questions/concerns please contact Amanda Rubio at (520) 818-8668 or e-mail

davidrubiovolleyballcamp@gmail.com

.
Appoximate Schedule:

Check in for residents begins at 7:45am (dorm not yet specified)
Check in for commuters begins at 8:30am (at McKale Center)

DAY 1

9:00am-12:00 pm
12:00-2:00 pm
2:00-4:30 pm
4:30-6:30pm
6:30-9:00pm
Session 1
Lunch Break
Session 2
Dinner Break
Session 3

DAY 2

9:00-12:00 pm
12:00-2:00 pm
2:00-4:30 pm
4:30-6:30 pm
6:30-9:00 pm
Session 4
Lunch Break
Session 5
Dinner Break
Session 6

DAY 3

9:00-12:00 pm

Session 7