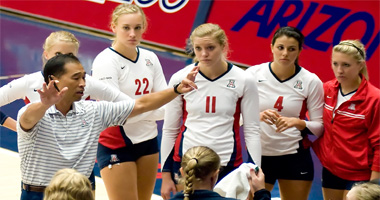 What Separates this Camp From Others?
Head Coach David Rubio personally directs all sessions.
All camp coaches are trained to use the same techniques.
All participants receive a camp T-shirt.
Player to coach ratio of approximately 6:1.
All camp sessions since 1992 have succeeded expectations due to its growth.
Reminders
Each camper must have an E-signature on file with their online registration, or a hard copy mailed in with their registration in order to participate.
Fax to: 520-626-7018 or send to Camp address.
Coaches Need to Know
Reservation:

To ensure your team has a spot, contact the Camp office via email as soon as possible. Our team maximum is 48 and it's first come first serve.

Deposit:

First notify the camp office you want to reserve your spot. Then send in your deposit for either $500 or $50/camper. If you and/or any of your coaches want to attend the clinic, please see the Coaches Clinic page on the website.

Click here for Coaches Clinic page

. Once we have received your deposit, your spot will officially be reserved.

Registration Forms:

Send in a signed and completed Camp Registration, Policy and Medical Release form for EACH player at one time. These cannot be faxed.
Click here for the players Form

Payment:

Make all checks payable to David Rubio Volleyball Camp. Deposit of $500 or $50/player due by June 1. Remaining balance due before or at check-in.

Address:

Send payments to: David Rubio Volleyball Camp, 1 National Championship Dr. McKale Center Room 211, Tucson, AZ 85721

T-shirts:

Must send all t-shirt sizes by June 15 to guarantee accurate sizes.

Parking:

Coaches are responsible for obtaining their own parking permits. For permits, call (520) 621-3710. Be sure to give campus parking the specific camp dates you are attending. You will want to get a ZONE 1 VISITOR parking pass. You do NOT need parking permits for weekends or weekdays after 5pm. Limited metered parking is also available.

Meals:

There are NO meals provided.

Housing:

There is NO housing provided.

Transportation:

There is NO transportation provided.

Refund/Cancel:

If you must cancel, please let us know immediately. It will give us the opportunity to admit another team on the waiting list. There is a $50 non-refundable fee applied to EACH camper. There will be no refunds for cancellations within one week of the start date. Refunds will be sent within one week of team camp completion.

Contact:

Call (520) 818-8668 or e-mail

davidrubiovolleyballcamp@gmail.com

Facilities:

McKale Center, Bear Down, Gittings, Campus Recreation Center, Tucson High School, and Catalina High School.

Click here for Maps