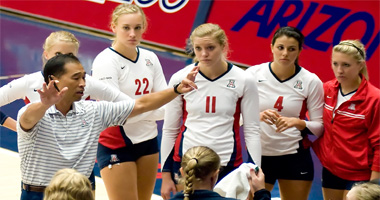 What Separates this Camp From Others?
Head Coach David Rubio personally directs all sessions.
All camp coaches are trained to use the same techniques.
All participants receive a camp T-shirt.
Player to coach ratio of approximately 6:1.
All camp sessions since 1992 have succeeded expectations due to its growth.
Reminders
Each camper must have an E-signature on file with their online registration, or a hard copy mailed in with their registration in order to participate.
Fax to: 520-626-7018 or send to Camp address.
Camp Philosophy
The David Rubio Volleyball Camp is specifically geared to create a positive learning environment for everyone who attends. Head coach David Rubio will personally direct each camp. His hands-on approach has made him one of the most successful camp coaches in the country. There will be 4 sessions of camp, with each session emphasizing either a different skill or age group, as described in camp descriptions.
Arizona Head Coach David Rubio


2001 Volleyball® Magazine National Coach of the Year

Entering his 22nd season as the head coach at Arizona, David Rubio has turned the Wildcat volleyball program into one that not only contends in the dominant Pac-12 Conference, but on a national level as well.

In 21 seasons at the helm of the Arizona program, Rubio has led the Wildcats to 15 NCAA Tournament appearances, which has included a trip to the Final Four, four Elite Eight appearances and seven trips to the Sweet 16. The Wildcats have advanced to the NCAA Tournament in three straight seasons.
Charita Stubbs
Former Arizona volleyball standout and assistant Charita Stubbs returns to the Wildcat coaching staff for the 2013 season.

Stubbs returns to Tucson after serving as the founder and Executive Director of Club Red Volleyball Inc. in Raleigh, N.C. in addition to being Athletic Director and head volleyball coach at Grace Christian School in Raleigh. Prior to her time with Club Red and at Grace Christian, she served a four-year stint as the head volleyball coach at NC State.

Prior to landing her first collegiate head coaching position in February 2006, Stubbs was a member of Rubio's staff for nine seasons as an assistant coach and associate head coach at Arizona. Helping the Wildcats reach the NCAA Tournament all nine years and finish in the top 25 in all but one of those seasons, Stubbs became the seventh head coach in the Wolfpack's 31st year of volleyball and the first African-American female to be named a head coach at NC State.
Gregg Whitis

Gregg Whitis, a veteran coach in the collegiate ranks for more than 17 years, enters his first season as Assistant Coach at Arizona. Whitis took over for Steve Walker, who is now the head coach of the new Arizona sand volleyball program.

Whitis joins the Wildcats staff after serving this past season as the associate head coach at Appalachian State University. In his only season with the Mountaineers, Whitis helped guide a very young Mountaineers squad. In addition to his duties as associate head coach, Whitis also served as Appalachian's recruiting coordinator. During the 2012 signing period, the Mountaineers inked three outstanding high-school prospects, all of whom earned all-state or all-district honors during their careers.

Prior to his time at Appalachian, Whitis spent three seasons at the University of Tennessee where he helped the Lady Volunteers to three-straight NCAA Tournament appearances, an overall record of 71-25 and a mark of 46-14 in the always competitive Southeastern Conference.

Other Camp Staff
The staff will include the current Arizona staff, as well as high-level club and high school coaches from around the country. Also including, current and former UofA players as well as other collegiate coaches.